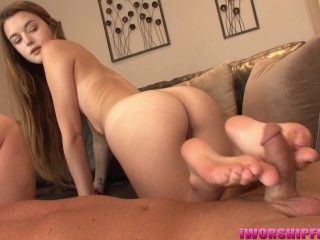 Hi there, if you are into sex and you are trying something new to spice up your sex life, your have to consider new sex fashion – footjob.
So, what the fuck is footjob? It is quite interesting thing. You cannot even call it sex postion. It is when a girl jerks a man off with her feet. Yup. Instead of using hands to ejaculate a man, she uses (usually) both feet.
This is quite crazy feeling. If you try to compare footjob with a blowjob or handjob – you can't. The feeling is very different. You cannot even imagine how great it feels when you get a footjob done on your cock.
So if your life is a bit dull, sex life wise, you should definitely try this out. Your wife/girlfriend/sex partner will also have a unique experience. I imagine it's quite hard to masturbate penis with your feet. It is challenging and it might be hard at first but she will get it eventually. Your penis will surely be aroused quickly.
But then again, there are different methods of performing the footjob. Girl can just sit on her bum right in front of you and herk you off while looking at you moaning out of awesomeness. She can also kneel and looking away from you, still performing the footjob. Why not do both? The choice is hers.
In conclusion, I'd like to say that this is the best thing to do in order to spice up your sex life. If you are bored of your sex life, if you think that having a regular sex becomes dull and stuff, you should definitely try something new. Foot fetish is becoming a thing amongst porn stars and those who watch porn. Why? Because it's fucking fantastic! It is so much different, it's crazy.